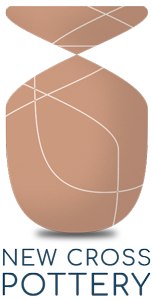 Workshop / Masterclass
with Alberto Bustos
Alberto Bustos, a seasoned ceramic artist with over 25 years of experience, has a deep  passion for expressing himself through clay. Alberto, known for his abstract lines, vivid  colouring and a keen sense of conceptualised space, his ceramic creations are a marvel. He  crafts porcelain into slender and versatile forms, expertly combining them into captivating  three-dimensional sculptures. In addition to his artistic endeavours, Alberto shares his  expertise by teaching advanced ceramics workshops worldwide. He holds esteemed positions  as a member of the International Academy of Ceramics and an Honorable Master in China.
The artist explains his creative process as connecting with Nature on a deeper level:
"Self-taught as I am, I never dreamt that my passion and admiration for Ceramics would turn  into my way of life, would give meaning to my life. It may well be that my inborn attraction  to Nature pushed me down to the ground to be fused with earth, our true essence. Through  "natuRareza", I submerge myself into the vegetal Psyche to find out those tortured feelings, a  product of the deterioration of the environment, that we humans habitually cause. My only  wish is that my modelling goes deeply into human sensitivity to revert the harm we are  inflicting on ourselves."
Alberto's journey started with his artistic inclinations from a young age. Initially starting with  painting, he soon found that two dimensions couldn't fully capture his emotions. The allure of  working with clay beckoned, seemingly easier to mould and shape. Over more than two  decades in this medium, Alberto continually learns and experiments, given the endless  techniques and variations that clay offers.
Creating his ceramic sculptures involves a meticulous process. It begins with an idea  conceived in his mind, often translated to paper through sketches. However, sometimes ideas  flow directly from his thoughts to the clay, driven by the immediacy of inspiration. The  modelling phase surprises many with its speed, aided by the fine elements he works with that  dry rapidly. Alberto prefers to dry the sculpture in the kiln, finding it easier to handle when  slightly moist and elastic. Caution is essential during the kiln placement to ensure vibrations  don't risk breakage.
Alberto believes a sculpture is never truly finished, akin to how life unfolds. After the firing,  a sculpture continues its journey, sometimes encountering damage or changes. Rather than  viewing these alterations negatively, Alberto sees them as part of the sculpture's unique life,  analogous to how we adapt and love our family members through life's challenges.
• Welcome and introductions
• What to expect during this hands-on workshop
• Demonstration of advanced ceramics production slabs
• Create two types of slabs with manual pressure
• Powder pigment application on wet clay
• Square filament modelling
• Construction of a complete piece using techniques learned during the day
• Rocky texture technique
• Using cookies and crackers to create textures
• Flat filament modelling and technique
• Pigment and glaze application on wet clay
• Construction of a complete piece using techniques learned during the day • Firing
• Rectangular filament modelling and technique
• Build flat, rectangular, and round filaments.
• Build textured filaments.
• Pigment and glaze application on wet clay
• Open the kiln and discuss the results.
• Time for questions
Materials provided for each hands-on workshop student
• Black stoneware
• White stoneware
• High temperature transparent matt glaze
• Yellow pigment
• Red pigment
• Turquoise pigment
• Kaolin powder
• Crackers/cookies
• MDF in various sizes
• Wood cylinder
• Toothbrushes
• Hand strainer
• Rectangular sponges
• Flat brush
• Small paintbrush
• Plastic banding wheel
• Plastic cups
• Paper towels
• Spray bottles
• Hair dryers
Please bring these items for your personal use
• Latex Gloves
• Masks
• Misc molding tools such as wooden sticks, small containers, small knives, spoons, etc.
The studio is located in The Rosemary Organic Hungarian Restaurant, and during the workshop, we provide all attendees with meals and drinks for a discounted price.
Please email us for details and to apply for the workshops via info@newcrosspottery.com